PACIFICA, CA --
El Nino-enhanced storms have been hitting the Pacifica bluffs hard and eroding the land. On Friday, that city declared a local state of emergency due to the failing public infrastructure and is asking the state and local officials for help. Half Moon Bay has been experiencing similar things and may also ask for the same type of assistance.
PHOTOS: Rain, storms hit Bay Area during 2016 El Nino season
Ensuring the rest of one road in Half Moon Bay doesn't end up in the ocean is a daunting task. Crews are using great skills to shore up the bluff. Boulders are gently picked up and moved closer to the edge, then strategically dropped below. Their purpose is to help stabilize the shoreline to prevent further erosion.
Last week a section of the cliff along Mirada Road fell to the beach below.
VIDEO: Watch Accuweather Forecast
Resident Linda Montalto showed ABC7 News how the bluff has been eroding for years. She said she feels "a little frustrated that it took so long, that we have to get this emergency situation, dire situation, where the road is collapsing."
Resident Lisa Molina's grandparents were farmers here. She grew up in Half Moon Bay and so did her parents.
"There used to be a lot more road years back when I was a kid and when my parents were growing up here, so it is sad to see it kind of falling in," Molina said.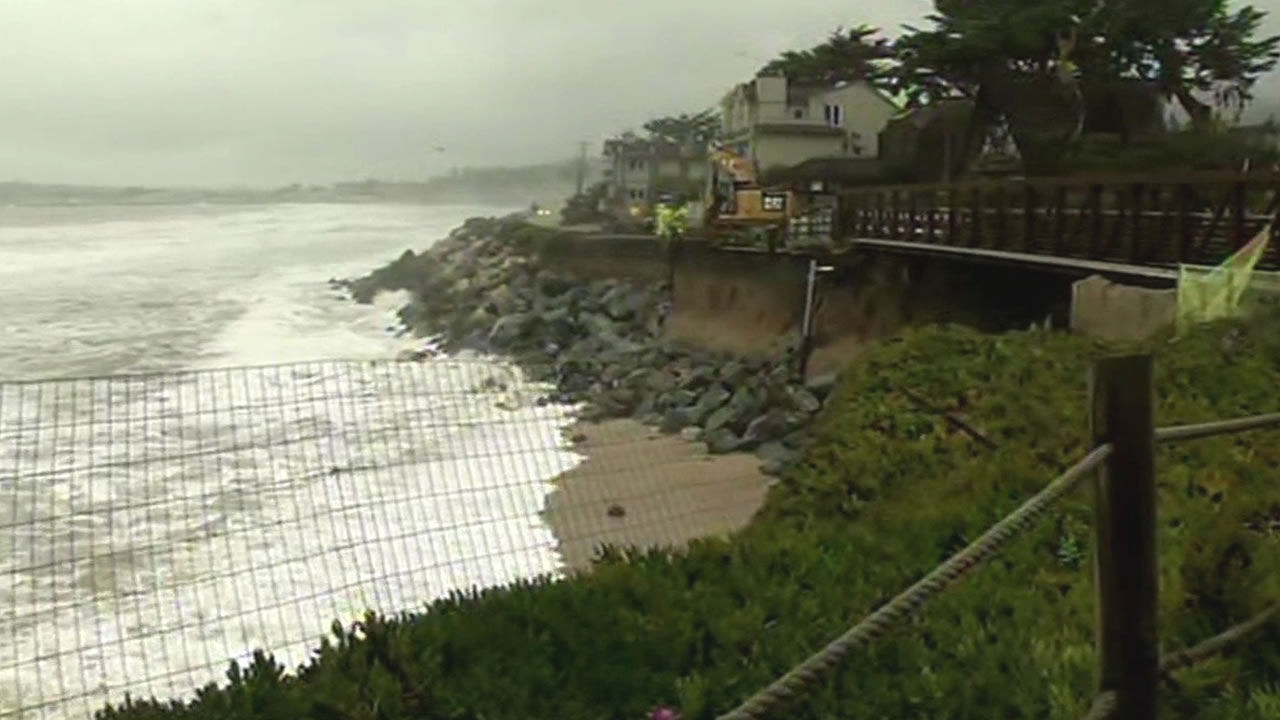 Many blame the nearby breakwater at Pillar Point for changing the direction of the waves that persistently slam into these cliffs.
"I've been here a couple of years and the shoreline down here, if you look at it, has been washing away at sort of a surprising rate," resident Dave Martinovich said.
In Pacifica, people stopped to look at the King tide. Just after 10 a.m., eight-foot waves jumped over the seawall flooding parts of Beach Avenue.
Among those enjoying this crazy weather were the kite surfers. Thanks to El Nino the season started three months earlier.
"This makes a brand new playground for us, plenty of this. The same thing happens in the Sierras, lots and lots of snow and then just take your pick, three hours between them," kite surfer John Wallace said.
Click here to download the ABC7 News App to get your weather forecast and severe weather alerts on the go, and click here for full coverage on El Nino.
What's the weather like #whereyoulive? Share your photos and videos on Twitter, Instagram, or Facebook by tagging them #abc7now. Your photos may be shown online or on-air!