Want to be part of the action? Become a CITCO Freedom Over Texas volunteer!
Houston's Official 4th of July Celebration
Fireworks will ignite the sky, and live music will set the stage for Houston's signature annual patriotic celebration, Freedom Over Texas from 4 p.m. - 10 p.m. on Tuesday, July 4 at the newly renovated Eleanor Tinsley Park on Buffalo Bayou (along Allen Parkway).
The evening will culminate with a spectacular fireworks display, choreographed to music, by CITGO.
This year, CITGO Freedom Over Texas will feature great music from Superstar performers: DNCE and Hunter Hayes!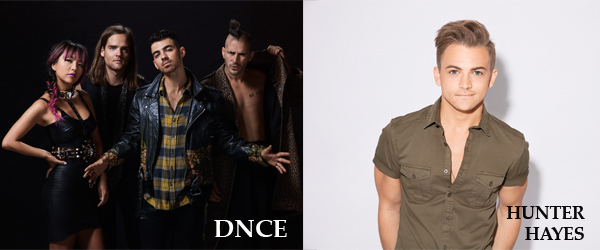 Festival Rules and Regulations
Questions about the event? Click this FAQ link!
Learn more about the event!
This year's festivities include the Walmart All-American Kids Zone, a children's entertainment area with a stage featuring entertainment for young and old, alike; the Bud Light Bayou Beer Garden and a fun in the sun good time; Liberty Park featuring a stage with amazing talent and a salute to all 5 branches of the military; the Dr Pepper One of a Kind Zone, featuring Houston professional sport team set-ups and Dr Pepper drink sampling at the Flavor Zone!
The Houston Parks & Recreation Department regulations prohibit dogs, amphibians, reptiles and snakes that are considered dangerous. Therefore, we require the ban of all such animals. This does not include Seeing Eye dogs or other dogs that provide assistance to physically challenged individuals. No smoking allowed in any City of Houston park interior and exterior spaces/facilities.
Mayor's Office of Special Events
Freedom Over Texas is one of the signature events produced by the Mayor's Office of Special Events. The City of Houston Mayor's Office of Special Events (MOSE) produces and permits events for the City of Houston. City-wide and neighborhood festivals, dedications, inaugurations, parades, tree plantings, fun runs, galas, ground-breakings, holiday celebrations are examples of events coordinated by this office.