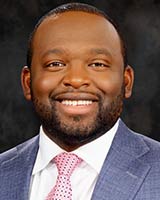 Tracy Clemons joined the ABC-13 Eyewitness News team in August 2014. As a Multimedia Journalist, he does it all. You can catch him reporting in front of the camera, and behind the camera shooting and editing his own stories.

Tracy enjoys bringing the big story home for the viewer. He came to Houston from St. Louis, Missouri where he worked for KSDK. In St. Louis, he covered some of the biggest stories in the region from crime to education. He provided extensive coverage of the education crisis that sent more than 2,000 students from unaccredited school districts in the St. Louis area into neighboring districts and resulted in a state takeover. He also covered the disappearance and murder of Hailey Owens, and the release of George Allen whose murder conviction was overturned after he spent more than 30 years in prison. And, of course, he's covered his share of snow storms and tornados. He loves telling stories that remind people that there's still some good in the world. One of his favorites was the story of a girl who carried her injured twin sister across the finish line at a state championship track meet.

He also worked in Shreveport, Louisiana, as a reporter and anchor. And before Shreveport, Tracy got his start in the business as a reporter in Charlottesville, Virginia.

Tracy is a proud alumnus of the University of Virginia (Go Hoos) where he was a charter member of the Cavalier Marching Band. He was named to the band's inaugural Hall of Fame class in the summer of 2014. He also earned a Masters degree in Broadcast Journalism from the Philip Merrill College of Journalism at the University of Maryland. He's a member of Alpha Phi Alpha Fraternity and the National Association of Black Journalists. He enjoys telling the stories that hold the powerful accountable, impact communities, make a difference, bring change, and make people smarter. When Tracy's away from the newsroom, he enjoys music, singing, sports, and spending time with his wife and son.


He wants to hear from you. Email him, Tweet him (@TracyABC13) or like his Facebook page Tracy Clemons ABC13.
---