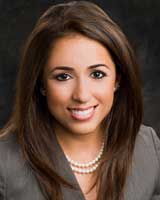 Sonia Azad joined Channel 13 as a field reporter in June 2009. Occasionally, you can catch her filling in on the anchor desk as well.

The exciting and unpredictable nature of a journalist's life is what attracted her to living out of suitcases and reporting from all over the world.

Sonia has reported for TV stations in San Diego, Chicago, Waco and College Station, often shooting and editing her own stories. In Washington, D.C., Sonia covered youth and politics in the run up to the 2008 Presidential election for a radio station. Internationally, Sonia covered the International Criminal Court and the International Criminal Tribunal for the former Yugoslavia in The Hague, Netherlands and also reported on war crimes in Africa and the Balkans. Some of her most memorable experiences include reporting on Iranians and Afghans seeking asylum in Paris and the Columbia Space Shuttle disaster for Star Television out of New Delhi, India.

Her half hour special report entitled, "Passage to India" won Sonia an Emmy Award in 2011. In 2012, The Texas Associated Press Broadcasters named Sonia one of the best reporters in the state.

Sonia graduated from the University of Texas at Austin with a Bachelor of Journalism and from Northwestern University's Medill School of Journalism with a Master of Science in Journalism. She also received a Master of Legal Studies from Northwestern University's prestigious law school.

Aside from work and globetrotting, Sonia dedicates much of her volunteer efforts to the Leukemia and Lymphoma Society, Rotary International, Halo House Foundation and the Tahirih Justice Center. She is also a marathon runner and avid yogi.
---