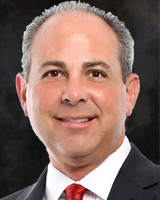 Kevin Quinn joined the Eyewitness News team in February of 2003 as a general assignments reporter.

In 1994, he graduated Magna Cum Laude from Arizona State University. His broadcast journalism career then began in West Texas. He worked at KMID, the ABC affiliate in Midland as a photographer, reporter and anchor. While there he was recognized for his work by the Texas Associated Press.

In 1997 he accepted a job at the ABC Owned and Operated station in Fresno, California. During his tenure at KFSN, Kevin received a number of awards including a prestigious regional Edward R. Murrow. He was recognized by the Radio and Television News Directors Association, nominated for an Emmy, and even named Associated Press Reporter of the Year for 2002. Kevin's reports revealed lapses in governmental oversight, uncovered questionable practices by law enforcement and even led to a change in California law. While working full time in Fresno, Kevin was also employed as a freelance reporter for KGO, the ABC station in San Francisco.

Kevin, his wife and their three children live in Fort Bend County. He is proud of living in one of the fastest growing communities in the country. Fort Bend is his "beat". He is always looking for stories related to its growth, its history and its enormous potential -- stories that matter to those living here -- his neighbors.

Kevin also covers NASA and the space "beat" for Eyewitness News ... fitting he says because he has always been intrigued by space and the human exploration of it. He saw, first hand, the launch of Space Shuttle Discovery and NASA's "Return to Flight" in 2005. Kevin says it was one of the highlights of his career. He has reported on nearly every shuttle mission since.

---